Last Saturday we had the wonderful privilege of hosting Jim Herrig, from the US Forest Service, the man who developed the wildly successful Freshwater Snorkeling Program in the Cherokee National Forest! Jim and his assistant Michela packed all of their equipment up: snorkels, masks and wetsuits, and made a 6 hour trek north to give us a full demonstration of the program.
Our original plan was to search the South Fork of the New River for hellbenders but unfortunately rain from the previous night tripled the size of the South Fork of the New and we were forced to reconsider our exploration site. We quickly settled on Helton Creek that was promisingly clear just up the road. Jim, Michela and Lisa Benish had scoped the South Fork of the New River out on the previous day and only came across 2 species of fish!
Helton Creek, known as North Carolina's premier delayed-harvest trout fishery, proved to have a much higher density of fish and diversity of species. We tallied 17 species in four hours of snorkeling the creek. Starting in a long riffle, 10 kids ranging from 11-18 years old and four adults worked their way excitedly upstream and into a ledged pool. After a brief lunch, we geared back up and worked our way upstream to a deep pool under a bridge where we found schools of big white suckers and trout. The highlight of the underwater world was the density of crayfish, darters and sculpin in the eight inch deep riffles at the heads of the pools. Everyone was slightly hesitant at first but as the day progressed so did the enthusiasm!
A big thank you to Jim Herrig and the USFS for making this possible!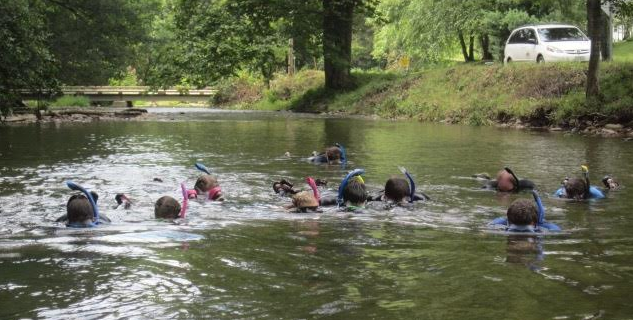 Longnose dace ?
Western blacknose dace
Bigmouth chub ?
Central stoneroller
Creek chub
Bluehead chub
Spotfin shiner
Saffron Shiner
Northern hogsucker
White sucker
Rainbow Trout
Brook Trout
Brown Trout
Mottled sculpin
Fan-tailed darter
Kanawha Darter
Logperch